UNESCO WORLD HERITAGE SITE
Jurassic Coast Experience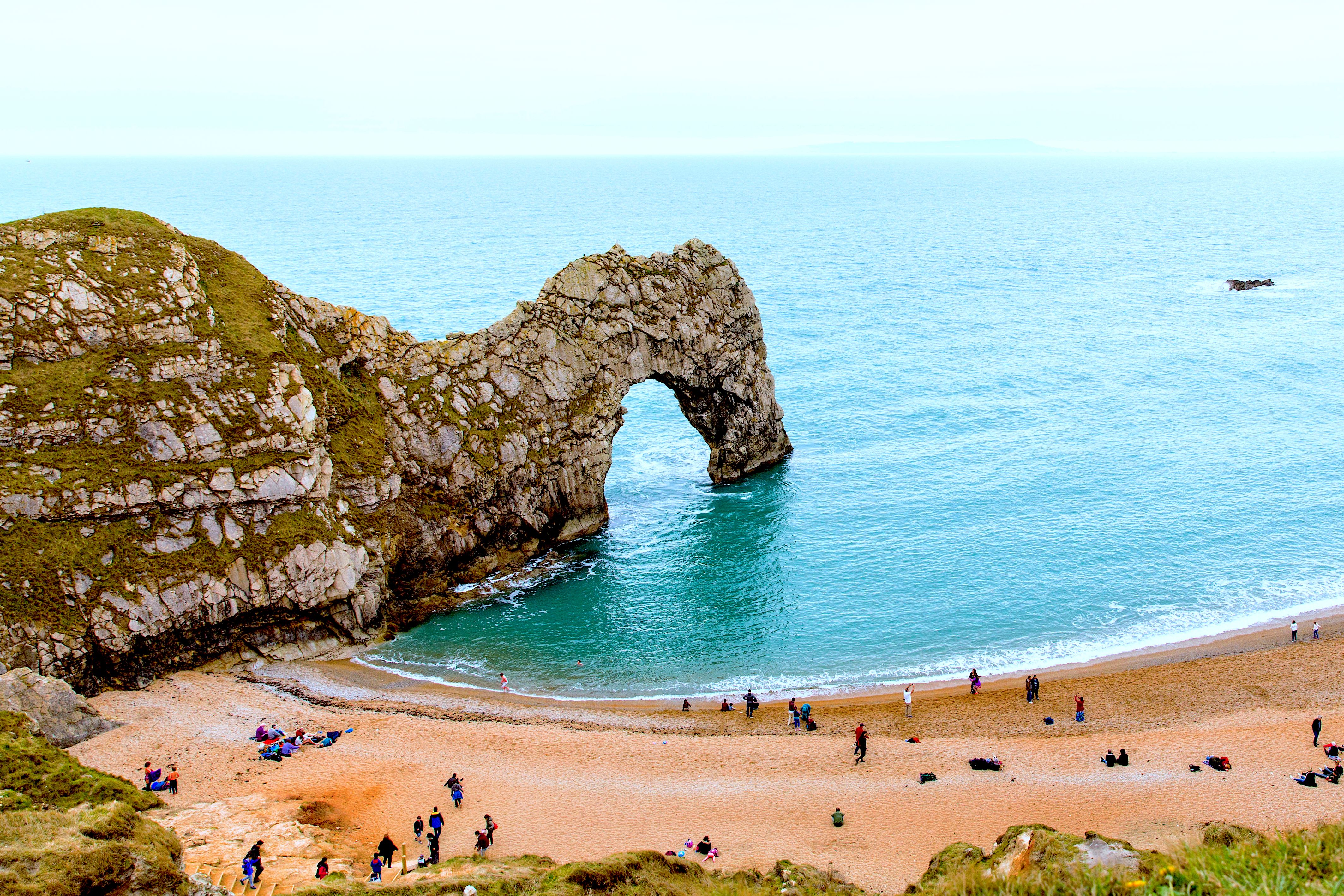 TOUR DESCRIPTION
Full Day Tour – Including Swanage, Corfe Castle, Lulworth Cove and Durdle Door
Full day out on the Jurassic Coast
Experienced friendly local driver guide
Early morning ferry to the Isle of Purbeck*
Studland Bay - views to Old Harry Rocks
Durlston Country Park - Swanage
Corfe Castle over lunchtime
Afternoon at Lulworth Cove & Durdle Door
Amazing photo opportunities
Convenient pick up and drop off location
Lunch/Food
Corfe Castle entrance
Important Information
Is lunch included?
No, lunch isn't included. There will be plenty of opportunities at Lulworth Cove to eat in or to buy some lunch
Are dogs allowed?
No, dogs are not allowed on our full day tours
Is there a toilet on the bus?
There are no toilets on the buses, however we will make plenty of convenient stops throughout our tours
Can I swim in the sea?
Yes! Durdle Door has a lovely beach with crystal clear water and it is the perfect spot for a dip. Wear swimming costume and bring a towel!
How challenging the walks are?
There are different levels of difficulties throughout the day. Your can decide on the day how much you can or want to do and your guide will be able to help you find alternatives!
What shall I wear?
Walking shoes/boots or trainers are a must (no flips flops or heels). Apart from that, it will be up to you!
What if it's raining?
The tour will go rain or shine! Pack some rain ponchos with you rather than umbrellas, they are more useful in the rain!
Can I change the date of my booking?
Yes, you can alter your booking by clicking on the "Manage My Booking" link at the bottom left of the page.
Can I bring my luggage with me?
It is possible for you to leave your suitcase on the bus while you enjoy the tour. Please let us know how many and the size (hand luggage or large) to make sure we have the space for it as some of our minibuses don't have a luggage compartment.
MORE INFORMATION
Jurassic Coast Experience
Our full day Jurassic Coast Experience tour starts and finishes in Bournemouth, you can pick from our list where you want to be picked up from.
Catch the early morning ferry across to the Isle of Purbeck. First stop is in Studland for a great view across the bay to Old Harry Rocks, the starting point of the Jurassic Coast, England's first natural UNESCO World Heritage Site. Another viewpoint allows us to take in breathtaking views across Poole Harbour and towards Brownsea Island.
By mid morning we arrive at Durlston Country Park. Here we visit the Jurassic Coast visitor centre housed in the recently refurbished Durlston Castle. There's time for a morning coffee stop overlooking the famous Great Globe and a chance to take the cliff top walk along to Tilly Whim Caves and the Anvil Point Lighthouse. For every visitor we bring to Durlston Country Park, we make a contribution towards a bursary that helps to support their volunteer programme.
Heading west we drive through some of the tiny lanes and villages that give Purbeck its unique character. Take lunch in the village of Corfe Castle, dominated by the ruins that give it its name. Entrance to the castle itself not included (Free to National Trust members).
After lunch take a gentle drive along the coast taking in more stunning scenery as we head for an afternoon at Lulworth Cove and Durdle Door. Walk down to Man o' War Rocks and view the magnificent rock arch of Durdle Door, hewn from the Portland limestone beds. Finally, head down to Lulworth Cove and see the famous Lulworth Crumple rock formation in Stair Hole. Lulworth Cove has a number of pubs, cafes and tea rooms where there is plenty of time to relax and refresh. You will arrive back to Bournemouth at about 18:00.
Make sure you are wearing comfortable clothes and shoes suitable for different terrains!